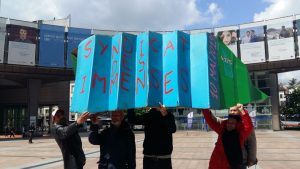 The working group 'Les précaires en colère' which gathered during the first Open Assembly of Droit à un Toit/Recht op een Dak gave birth to the Syndicat des Immenses. DoucheFLUX opens its doors to their weekly gatherings on Mondays.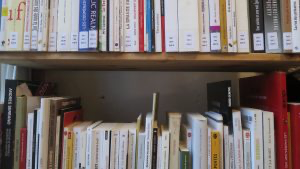 A library has gradually been set up with the ambition of creating a documentation centre on poverty, homelessness and related subjects. It contains conference proceedings, institutional reports, professional handbooks, newspapers, magazines, essays and literature.
DoucheFLUX Open Doors is a chance for the general public to visit our day centre. An informative and friendly event on 25 October 2020.
In February and March 2019, Julie de Bellaing shared a few glimpses of the daily life of Claude, Frank, Rabah & Sébastien, regulars at DoucheFLUX. Four completely different individuals, with their own histories and backgrounds, but which society labels collectively as "(ex-)homeless".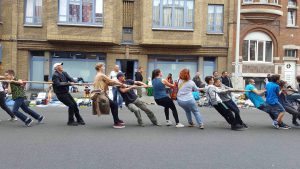 Every year, on Whit Monday, DoucheFLUX holds a stretch party and flea market. A great occasion for our neighbours – and everyone who is interested – to get to know DoucheFLUX and vice versa.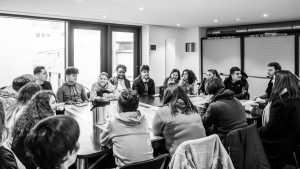 DoubleFLUX MasterClass aims to raise awareness among secondary school students and adults about the issue of homelessness in Brussels and to provide them with food for thought.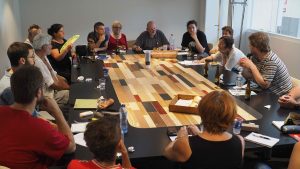 People rarely give much thought to what it means to be homeless. The think tank tries to approach homelessness from as many different angles as possible.
AlterBrussels trained some regular DoucheFLUX users to act as tour guides. They show visitors round their DoucheFLUX and present the Cureghem district from the unique perspective of their personal experience.
Objectif D.F.V.P., or Dept Forgiveness for the Very Poor, is an appeal – do sign! – which resulted from an inspired debate during a Think Tank in 2016.