Do you like books and the exchanges they generate? Does pedalling through the streets of Brussels not scare your calves? You don't want to remain indifferent to exclusion?
Initiated by DoucheFLUX, La Maison du livre, and joined by the Biblio de Saint-Gilles, Street & Read is a mobile library on a cargo bike that comes to meet people living on the streets.
The aim? To make the possibility of reading accessible to everyone, but also to use the book as a kind of "pretext" to get this public out of social isolation.
In concrete terms, our cargo bike set off in September 2019 and three years later, it continues to allow a public in precarious situations to have access to a whole catalogue of books, during the various stops of the library… while sharing a convivial moment with the team of volunteers, over a tea or a coffee!
An information session for people interested in getting involved in the project is organised on Wednesday 14 September at 5.30pm at DoucheFLUX. More info

Would you like to collaborate? Contact Street & Read!
Practical information
Stops


on Monday:
– Place Falgeyplein from 14.00 to 15.30
on Friday:


– Parvis de Saint-Gilles/Sint-Gillisvoorplein from 9.00 to 10.30




– Gare centrale/Centraal station from 11.00 to 12.30




– Gare du Midi/Zuidstation from 14.00 to 15.30

Tariff: free
Download the poster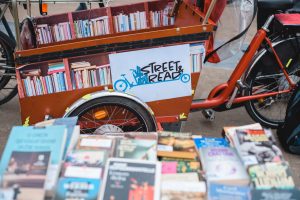 In collaboration with
&
With the support of Celina Ramos Foundation, managed by King Baudouin Foundation.