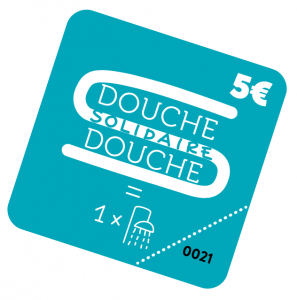 The douche solidaire douche is a voucher that entitles the holder to a free shower at DoucheFLUX.
The douche solidaire douche can be bought by any citizen at a Point of sale* for €5. This covers all costs incurred by DoucheFLUX for one shower, and includes:
a warm welcome at DoucheFLUX
access to a shower cabin
a shower set including a towel, washcloth, shower sandals, personal care products and accessories such as a toothbrush, comb, razor, feminine hygiene products etc
water and energy
amortisation of the infrastructure
on-site support team
The voucher is then given to homeless or destitute people, either directly by the purchaser, or by a Distribution point – a social, medical, cultural, citizens'… organisation – that has partnered with the Point of sale.
* A business, café, cultural centre, restaurant, theatre, concert hall, medical centre, library, department within a company, a bank…
Would you like to buy a douche solidaire douche?
Here, you can find all participating Points of sale in Brussels.
Would you like to sell or distribute the douche solidaire douche?
Download the presentation of the project in English, French or Dutch and send us an email.
Download the poster/folder of the douche solidaire douche.
Partners (distribution points)