You have some time or specific capacities to share and you want to help homeless people in Brussels ?  Become a volunteer at DoucheFLUX!
At DoucheFLUX, volunteers invest their time according to their availability. A schedule is elaborated according to the availabilities communicated by each one and a sandwich is offered during your shift. Intervention on public transport is also possible.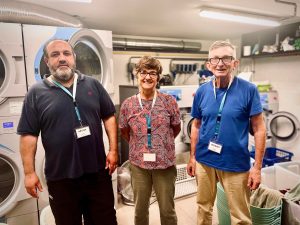 Current needs
To ensure the smooth running of the day centre services, DoucheFLUX needs 9 volunteers each day, from Tuesday to Friday from 8.15 to 12.45 and/or from 12.45 to 16.00, and  Saturday from 8.15 to 12.45 and/or 12.45 to 14.00

For the KinéFLUX-project, we are looking for volunteer physical therapists! We are also looking for volunteers for our "Street & Read" project, lawyers for the legal advice and a graphic designer for Syndicat des immenses.
DoucheFLUX offers many weekly activities, courses and workshops that would benefit greatly from your energy and enthusiasm! Concretely, you can support an activity that is already running (e.g. magazine, radio, sport, yoga …), support an activity that is just getting started or propose a new activity, whether a long-term activity or a "one-off"! Worth knowing: you are not alone! Serena, the coordinator of activities and training, is here to support you and accompany you!
On Wednesday, DoucheFLUX is only accessible for women: 100% women. Volunteers at that moment are preferably women !  Following the success of the hairdressing, manicure, pedicure, skincare and massage services on 100% women, we are also looking for hairdressers, beauticians and masseurs/masseuses available at that moment, so that we can offer this on a weekly basis.
Don't hesitate to contact Zora Hlavcova by sending her an e-mail or calling her (0470 02 41 75) for any questions/new ideas you might have, for more information, or to apply!