DoucheFLUX ASBL/vzw* wants to combat the exclusion of those living in precarious circumstances, whether they are homeless or living in poor housing, documented or otherwise, wherever they come from. At the heart of its mission is the human being and his dignity. This is why DoucheFLUX offers basic yet essential services, organises activities & training courses that help restore their energy, dignity and self-esteem, and invites them to become part of the team of volunteers. It has also developed an 'Advocacy & awareness' pillar in which people in precarious situations are actively involved. This pillar aims to deconstruct stereotypes around extreme poverty and spread the message that homelessness is a problem that can be solved.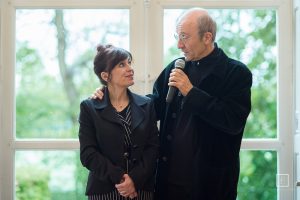 DoucheFLUX is a social and participative project that encourages social and cultural diversity both in its teams and in its partnerships. Founded in 2011 as a 100% private citizen's initiative, DoucheFLUX relied exclusively on private funds until the end of 2017. The association aims to become a public-private partnership with a budget coming from both its own sources, as well as from subsidies and donations and sponsors.
The first activities – magazine and radio – started in 2012 and many other activities followed in the following years.
In March 2017, DoucheFLUX passed an important milestone with the opening of a new building near the South station in Anderlecht. Following nearly a year of renovation work, the DoucheFLUX day centre offers 20 shower cabins, a launderette, 230 lockers – and an array of other services which are complementary and no less important – in a stimulating and pleasant environment, encouraging social interaction and mutual respect.
* statutes of the ASBL / vzw in French or in Dutch
Social investors for the purchase of the building
          CEPERIVE SA FS/nv so         
Support for the renovation and equipment of the building
With the support of VINCI Funds, managed by King Baudouin Funds
DoucheFLUX is a member of