DoucheFLUX wants to combat the exclusion of those living in precarious circumstances, whether they are homeless or living in poor housing, documented or otherwise, wherever they come from. At the heart of its mission is the human being and his dignity.
Activities & courses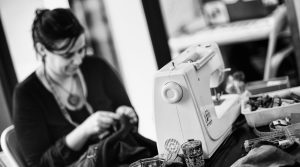 On 1st July 2020 DoucheFLUX has resumed several activities:
– sewing workshop
– swimming
– DoucheFLUX Magazine
– yoga
Click to for more details about these activities and their time schedule.
Services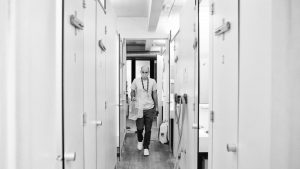 DoucheFLUX is gradually resuming its services. Click to know which services are available now
Please note the following changes from 1 July 2020.
1. showers, laundry and lockers will be charged again
2. DoucheFLUX will be closed as well on Sundays as on Mondays
3. on Wednesdays, DoucheFLUX is open exclusively to women.
Advocacy & Awareness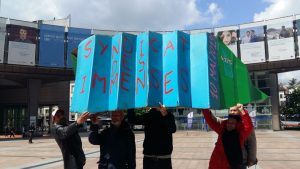 RESTART: The working group 'Les précaires en colère' which gathered during the first Open Assembly of Droit à un Toit/Recht op een Dak gave birth to the Syndicat des Immenses. DoucheFLUX opens its doors to their weekly gatherings on Mondays.
News
10/06/2020
Would you like to join our dynamic and friendly team? To be part of an exciting project that's continually expanding? To contribute to people's well-being and place human dignity at the very heart of your work? DoucheFLUX is looking for two new team members.
Accommodation during covid-19
Since 10 April 2020 following the coronavirus pandemic, DoucheFLUX, JES Sleep Inn and Les Gastrosophes have been collaborating in an original project, one that is rich in experience and certainly opens up new avenues. Around fifteen people, mostly women, are now staying in JES Sleep Inn and benefit from social support and a series of cultural, sportive, well-being and entertainment activities, as well as quality meals.