DoucheFLUX wants to combat the exclusion of those living in precarious circumstances, whether they are homeless or living in poor housing, documented or otherwise, wherever they come from. At the heart of its mission is the human being and his dignity.
Activities & courses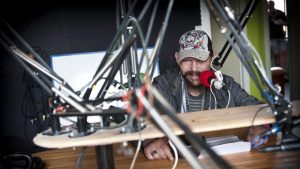 – football
– swimming
– sewing & knitting workshop
– self-defense for women
– birthday party
– Radio 'La Voix de la Rue'
– DoucheFLUX Magazine
– yoga
Click to for more details about these activities and their time schedule.
Services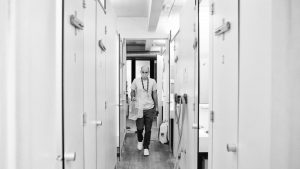 DoucheFLUX has resumed most of its services and offers some new services: optician, physical therapy, medical pedicure. Click to know more about all the services available now.
Advocacy & Awareness
DoucheFLUX Open Doors on Sunday 25 Octobre 2020 is a chance for the general public to visit our day centre. On the programme of the event, guided tours and a political debate. Click for more information about how to participate.
News
14/10/2020
DoucheFLUX wants to hire a second social worker and a specialized educator from 15 November 2020 on! Something for you? Click for more info.
Accommodation during covid-19
Since 10 April 2020 following the coronavirus pandemic, DoucheFLUX, JES Sleep Inn and Les Gastrosophes have been collaborating in an original project, one that is rich in experience and certainly opens up new avenues. Around fifteen people, mostly women, are now staying in JES Sleep Inn and benefit from social support and a series of cultural, sportive, well-being and entertainment activities, as well as quality meals.