- Transitaccomodation (temporarily closed)
In the wake of the corona pandemic, DoucheFLUX has expanded its scope of operations with a new project that has brought a lot of experiences and no doubt opened new perspectives... Unfortunately, the transit abode closed its doors in April 2023 after the COCOM/GGC's subsidies were not renewed.
This facility, the only one of its kind in Brussels, was often the only solution for most of the women sheltered there. In response to this dire situation, DoucheFLUX has drafted a plea for its reopening.
The aim of this plea, which outlines the project and includes numerous testimonies from partner associations, is to affirm its absolute necessity! DoucheFLUX is determined to move heaven and earth so that the transit facility can be permanently reopened in the coming months!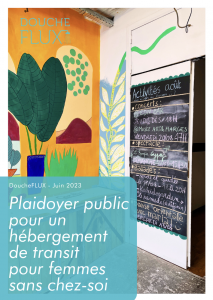 for the reopening of our transitaccomodation
« Hôtel solidaire » ("Solidarity Hotel")
In addition to this joint project, DoucheFLUX was also involved in another accommodation project, called "Hôtel solidaire" ("Solidarity hotel"), in collaboration with the non-profit organisations Diogenes and L'Îlot/'t Eliandje. A total of 23 people – including 10 under the care of DoucheFLUX – were housed at a hotel in the municipality of Brussels, and later on in Molenbeek. This project was equally financed by COCOM/GGC until 30 July 2021.
- Housing First project
In early March 2023, DoucheFLUX launched its Housing First project, with the support of the COCOM/GGC and in cooperation with AIS/SVK of Saint-Gilles. The aim of the project is to provide housing for the most vulnerable homeless people, with tailor-made counselling.
DoucheFLUX's Housing First project offers very vulnerable homeless people immediate shelter, with no preconditions (except paying the rent and complying with the lease). These people are accompanied by a multidisciplinary team: a social worker, a psychologist, a harm reduction expert on drug addiction, etc.
The aim is to provide them with individual, intensive and personalised support to facilitate their social inclusion and recovery, and to help them regain their independence by making their return home sustainable.
This project is an important step for DoucheFLUX, which is making an even more concrete commitment to the fight against homelessness by joining forces with operators already active in this field to provide a complementary approach.
Contact : Jérôme Guiot - jerome.guiot@doucheflux.be
with the support of