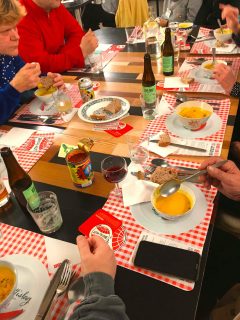 A huge thanks to all those who helped us raise €53,198 as part of Brussel Helpt! Such an amount is really encouraging for we know that many, many, many people are convinced DoucheFLUX is doing a good job.
At DoucheFLUX, Les Gastrosophes took charge in the kitchen, and crafted a 3-course gastronomic menu that our guests loved. Half of the 80 spaghettis served at DoucheFLUX were offered by generous individuals to people living on the street or in precarious circumstances!
Thank you!
In the press
Check out BRUZZ's reporting around Brussel Helpt and about DoucheFLUX.