Click on the picture to view the exhibition booklet!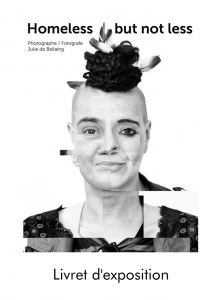 'Homeless but not less' is a co-creative project involving women without a fixed home, a photographer and an art therapist, and which is built around the notion of identity. The project was carried out through various art therapy workshops:
Self-portrait: to pose, to look at yourself in a mirror, and to try to draw yourself with kindness. This allows us to take the time to pause and reflect on the image we have of ourselves.
Writing work – life story: rather than only speaking on their behalf, we pass the pen to the participants so they can find their own words to accompany their photo portrait.
The photographer was part of the whole process, not only taking photos but also creating a bond with the participants. "Exposing" yourself in front of a camera is never easy, after all. She took the time to talk with each woman, to present the different possibilities (e.g. an anonymous portrait, black and white etc.) and to get comfortable with each other.
The project culminates in an exhibition of photo portraits and self-portraits.
Where can you see the exhibition soon ?
From September 19th to October 10th @ BEES coop
From October 10th to November 7th @ Boentje Café
free admission
You want to exhibit 'Homeless but not less' in your establishment? Send us an e-mail!
With the support of