For several months now, Yolande has been offering her professional optician services to DoucheFLUX on a voluntary basis. Convinced that being able to see well is a basic right, she comes once a month to carry out free eye exams and provide second-hand glasses, fitted with new corrective lenses, to those who need them. Beneficiaries pay a contribution of €1.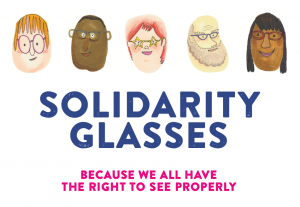 You can be part of the project too by giving a second life to glasses frames you no longer use. These frames are then recycled either to be given to beneficiaries who need them, or to be sold in stores at a price of €10. The latter helps finance the cost of the new lenses that go into the glasses we provide.
Needless to say, this service is a huge success!
Do you have glasses frames you no longer use and can give away?
Drop them off at one of the following collection points:
Optique Arnould, chaussée de Waterloo/Waterloosesteenweg 17, 1060 Brussels
DoucheFLUX, rue des Vétérinaires/Veeartsenstraat 84, 1070 Brussels
Ozfair, avenue Jean Volderslaan 57-63, 1060 Brussels
Maison Médicale Perspective, rue Alexandre Pierrardstraat 3, 1070 Brussels
Babelmet, rue Richard Vandeveldestraat 40, 1030 Brussels
Neerpoorten 14, 1861 Wolvertem
Want to become a collection point for glasses frames?
Download and print the poster in English, Dutch and/or French and send us an email with your address so we can add it to the list above.