Brussels, 14 March 2023 – DoucheFLUX, a Brussels-based non-profit organisation active in helping homeless people, is today launching its "Housing First" project, with the support of the COCOM and in partnership with the AIS of Saint-Gilles. This project aims to offer housing to the most vulnerable homeless people, with support adapted to their needs.
DoucheFLUX's Housing First project will offer highly vulnerable homeless people immediate accommodation, with no preconditions (except payment of rent and compliance with the lease). These people will be accompanied by a multidisciplinary team: social worker, psychologist, expert in harm reduction and drug addiction… The aim is to offer them individual, intensive and personalised support to facilitate their social inclusion, their recovery and to help them regain their autonomy through the sustainability of their return to housing.
This project is an important step for DoucheFLUX, which is thus committing itself even more concretely to the fight against homelessness by adding its strengths to those of operators already active in the field, aiming to provide a complementary approach.
Alain Maron, Brussels Minister for Social Action: "Since 2019, the number of people supported by Housing First schemes has tripled (290 people in 2023). This "Housing First" methodology, which, as its name indicates, consists in starting by solving the problem of homelessness, has shown its relevance. I would like to thank Doucheflux, which joins the Housing First operators (7 to date) that enable the most vulnerable people to access housing. My objective is clear: to further increase this policy of sustainable integration through housing. To do this, we will continue to furnish even more housing.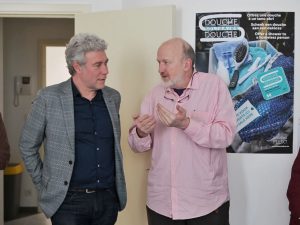 Evolving missions
The non-profit organisation DoucheFLUX was founded in 2011, following a meeting between citizens and those who were still commonly referred to as "SDF (sans domicile fixe)" at the time. Faced with a crying lack of affordable showers and washrooms in Brussels, the citizens decided to open a dynamic, friendly and "low threshold" space where people living on the streets could regain their dignity, starting with hygiene and the reappropriation of their bodies. After 5 years and 2,000,000 euros raised through private support, the DoucheFLUX day centre opened its doors in 2017.
Although the DoucheFLUX project was initially designed to meet basic needs, the coronavirus pandemic has given it another dimension. After the opening of a transit accomodation in March 2020 to provide shelter for homeless women with nowhere to go, it is another observation that has to be made: after the first few weeks of rest, the in-depth social work and follow-up in the shelter context are much more effective than the follow-up of the same people on the street. The rehousing rate for residents is high: almost 60% were rehoused permanently between 2020 and 2022. Ending homelessness is therefore possible, and (re-)housing is the key. DoucheFLUX can no longer be considered without accommodation activities.
Contact : Vanessa Fusco, communication & fundraising – 0484 15 16 01 – communication@doucheflux.be