DoucheFLUX Magazine seeks to raise public awareness about poverty. It's not a hotchpotch of sob stories and random news items, it provides real insight into a largely unknown world.
Co-written by destitute people, DoucheFLUX Magazine has a print run of nearly 2,000 copies and is distributed throughout the Brussels-Capital Region by homeless people themselves. They pay €0.50 per copy and sell them on for €2, quite legally. For many of the magazine vendors, this is one of their main sources of income.
Info
Would you like to contribute to DoucheFLUX Magazine? Join the magazine team meetings, every Wednesday from 10.00 to 13.00 at DoucheFLUX.
Would you like to sell the magazine? The pick-up time for sellers is every Tuesday from 14.00 to 16.00.
Would you like to buy/read the DoucheFLUX Magazine? The latest issue is available on the streets for only €2! Previous issues can be downloaded below.
Contact us for more information.
Watch below the BRUZZ coverage on the occasion of Brussel Helpt 2019:
Latest issue
DoucheFLUX Magazine nr35 – Summer/Autumn 2021
Editorial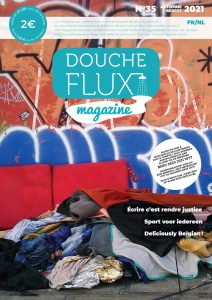 We're back on track. Since last autumn, our editorial team has struggled to get started again. The pandemic changed our habits, and it changed us too. We have all changed. However, despite the recovery, the daily commutes, the meals out, the blooming of flowers, the floods, the 20 years since the terrorist attacks on the United States, everything is different. Now some of our sellers are asking for cash donations for DoucheFLUX. As you can imagine, this is not something our organisation does. If you wish to make a donation, please transfer the amount to our bank account BE80 3630 2531 1077 with the communication DONATION or MONTHLY DONATION. You can also donate via Paypal.
Transparency is a fundamental value for us: DoucheFLUX is a member of the Donorinfo foundation. Donorinfo is an independent body that guarantees the transparency of the accounts and the overall functioning of the associations it analyses. The donorinfo.be site makes all this information easily accessible.
Donations of at least €40 are tax deductible. Following the coronavirus crisis, the federal government increased the tax deductibility rate from 45% to 60% for any donation made in 2020 and 2021.
You can find all the relevant information on our site https://doucheflux.be/participer-soutenir/dons/?lang=en
Happy reading!
Aube Dierckx
Previous issues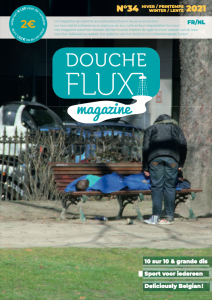 Save
Save
Save
Save
Save