DoucheFLUX Magazine seeks to raise public awareness about poverty. It's not a hotchpotch of sob stories and random news items, it provides real insight into a largely unknown world.
Co-written by destitute people, DoucheFLUX Magazine has a print run of nearly 2,000 copies and is distributed throughout the Brussels-Capital Region by homeless people themselves. They pay €0.50 per copy and sell them on for €2, quite legally. For many of the magazine vendors, this is one of their main sources of income.
Info
Would you like to contribute to DoucheFLUX Magazine? Join the magazine team meetings, every Wednesday from 10.00 to 13.00 at DoucheFLUX.
Would you like to sell the magazine? The pick-up time for sellers is every Tuesday from 14.00 to 16.00.
Would you like to buy/read the DoucheFLUX Magazine? The latest issue is available on the streets for only €2! Previous issues can be downloaded below.
Contact us for more information.
Watch below the BRUZZ coverage on the occasion of Brussel Helpt 2019:
Latest issue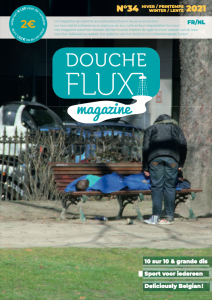 DoucheFLUX Magazine nr34 – Winter/Spring 2021
Editorial
Dear reader, dear customer,
At the start of a new year, I would like to thank you for continuing to support our sellers, who, like all of us, have gone through terribly difficult times.
This health crisis has changed not only our lifestyles, but also our habits! Perhaps this is the first time you have bought this magazine, and you are reading it for the first time. If so, you should know that the person who sold it to you paid € 0.50 per copy (up front), and so earns € 1.50 for each magazine sold. That may not be much, but it makes such a difference to the seller!
Please also note that our editorial staff comprises volunteers and destitute people, who express themselves freely. DoucheFLUX, a non-profit organisation, has been publishing the magazine for several years. It does not have an editorial position, but provides a platform for its contributors, without any kind of prejudice.
Thank you for supporting our sellers and our authors.
Aube Dierckx
Previous issues
Save
Save
Save
Save
Save