DoucheFLUX Magazine seeks to raise public awareness about poverty. It's not a hotchpotch of sob stories and random news items, it provides real insight into a largely unknown world.
Co-written by destitute people, DoucheFLUX Magazine has a print run of nearly 2,000 copies and is distributed throughout the Brussels-Capital Region by homeless people themselves. They pay €0.50 per copy and sell them on for €2, quite legally. For many of the magazine vendors, this is one of their main sources of income.
Info
Temporarily suspended
Would you like to contribute to DoucheFLUX Magazine? Join the magazine team meetings, every Wednesday from 10.00 to 13.00 at DoucheFLUX.
Would you like to sell the magazine? The pick-up time for sellers is every Tuesday from 14.00 to 16.00.
Would you like to buy/read the DoucheFLUX Magazine? The latest issue is available on the streets for only €2! Previous issues can be downloaded below.
Contact us for more information.
Watch below the BRUZZ coverage on the occasion of Brussel Helpt 2019:
Latest issue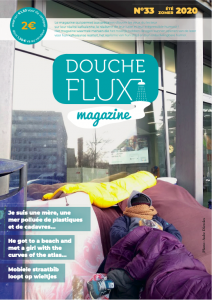 DoucheFLUX Magazine No 33 – Summer 2020
Editorial
DoucheFLUX Magazine, which was due to appear in March, was abruptly suspended due to the long lockdown that was imposed on (almost) all of us.
In this issue, there are no articles about the pandemic, because no author wanted to mention it. The magazine is simply picking up where it left off.
I especially wish to congratulate DoucheFLUX which, since the beginning of the lockdown, has kept its doors open and has been providing a minimum service, including showers, laundry, lockers, social services, basic medical care, and distribution of lunch boxes and water to those in need. To make these services even more accessible to as many people as possible during this difficult time, everything was provided free of charge.
As the lockdown eases, you can still make a donation to support our activities:
BE80 3630 2531 1077
communication "COVID-19 SUPPORT".
We hope you enjoy reading our Magazine.
Aube Dierckx
Previous issues
DoucheFLUX Magazine News
Save
Save
Save
Save
Save