DoucheFLUX Magazine seeks to raise public awareness about poverty. It's not a hotchpotch of sob stories and random news items, it provides real insight into a largely unknown world.
Co-written by destitute people, DoucheFLUX Magazine has a print run of nearly 2,000 copies and is distributed throughout the Brussels-Capital Region by homeless people themselves. They pay €0.50 per copy and sell them on for €2, quite legally. For many of the magazine vendors, this is one of their main sources of income.
Info
Would you like to contribute to DoucheFLUX Magazine? Join the magazine team meetings, every Wednesday from 10.00 to 13.00 at DoucheFLUX.
Would you like to sell the magazine? The pick-up time for sellers is every Tuesday from 14.00 to 16.00.
Would you like to buy/read the DoucheFLUX Magazine? The latest issue is available on the streets for only €2! Previous issues can be downloaded below.
Contact us for more information.
Watch below the BRUZZ coverage on the occasion of Brussel Helpt 2019:
Latest issue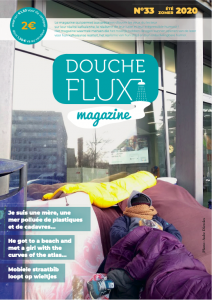 DoucheFLUX Magazine No 33 – Summer 2020
Editorial
Le DoucheFLUX Magazine aurait dû sortir en mars dernier. Il a été suspendu en plein vol, nous imposant à tou·te·s (ou presque) un long confinement.
Aucun article ne parle de la pandémie car aucun·e auteur·e ne l'a souhaité. Le Magazine continue donc là où il s'était arrêté.
Je tiens à saluer tout particulièrement DoucheFLUX, qui, depuis le début du confinement, est resté ouvert en offrant un service minimal : douches, lessives, consignes, service social, infirmière, distribution de lunchs et d'eau. Pour rendre ces services encore plus accessibles au plus grand nombre pendant cette période difficile, ils ont tout offert à titre gratuit.
Malgré le déconfinement, vous pouvez faire un don pour nous soutenir dans cette démarche :
BE80 3630 2531 1077
communication « COVID-19 SUPPORT ».
Très bonne lecture,
Aube Dierckx
Previous issues
DoucheFLUX Magazine News
Save
Save
Save
Save
Save