DoucheFLUX Magazine seeks to raise public awareness about poverty. It's not a hotchpotch of sob stories and random news items, it provides real insight into a largely unknown world.
Co-written by destitute people, DoucheFLUX Magazine has a print run of nearly 2,000 copies and is distributed throughout the Brussels-Capital Region by homeless people themselves. They pay €0.50 per copy and sell them on for €2, quite legally. For many of the magazine vendors, this is one of their main sources of income.
Info
Would you like to contribute to DoucheFLUX Magazine? We are looking for a new coordinator!
Contact us for more information.
Latest issue
DoucheFLUX Magazine nr37 – Summer 2022
Editorial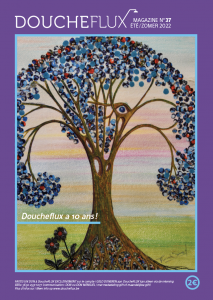 For seven years, I have been running this magazine. Seven years in which I have learned a lot. Seven years of warm, strange, bizarre or sometimes even surreal encounters that have ALL enriched me.
This is the last time I write this foreword. With a heavy heart, a lump in my throat and tears in my eyes. It is not an easy decision. But it is no different.
I would like to thank my entire team : the authors, the coordinators who supported me, the artists, the proofreaders, the designers and everyone who voluntarily followed me in this beautiful adventure. Many thanks to all of you. Thank you also to all the contributors (volunteers and employees) of this incredible asbl DoucheFLUX which I cherish to the depths of my heart and which has given me invaluable values. Thank you to the sellers and to the buyers and readers for their important support. Thank you for the authors' gratitude and tears of emotion.
I am gone, but I leave the door open. Thank you, Laurent and Hélène.
Aube Dierckx
Previous issues